Action Movie FX
is back!  You may remember the original one where you can add falling rocks, spiders, rolling cars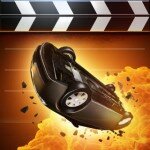 and missiles to the standard videos you shoot. This time it has a Star Wars theme.  
This app is always a ton of fun and I realized that a bunch of new ones have been added such as spider, avalanche and some great Star Trek scenes.
Simple to use, you just shoot a 10 second scene then add the effect. Easy to share on Facebook or save to your camera roll.
Simple Uses?
Have students come up with an original story starter by creating a scene

Create your own scene to spur imagination for storytelling

Use it as a reward in the end.  Student who works the best, or group, etc., gets phasered by the teacher.
Do I Plan To Use It?
Sure! For the reasons above and just for fun.
Commitment And Learning Curve
Low commitment and low learning curve.


Best For
ES/MS/HS
Cost
You get a few scenes for free, but then need to pay for upgrades. Fair trade off though.


Website
ActionMovieFX.com