Shout out to @FreakingNews, who turned me on to this service after they saw our SweetSearch review.
Kiddle
is a kid-friendly search engine powered by Google Safe Search and further filtered by editors. Because the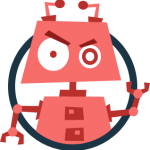 challenge of effective filtering is ongoing,
Kiddle
intelligently encourages users, or parents of users, to suggest additional key word and site filters.  Kiddle is one of several attempts to allow access to the power of the internet while providing safety for young users. I recently reviewed
SweetSearch
as another useful tool.
So how does
Kiddle
stack up? The search engine has some nice features, one being the ranking system that pushes the most thoroughly vetted sites to the top. Another cool feature is the thumbnail image that pops up for every webpage hit. Students do not need to actually go to the site in order to have some idea of the "flavor" of it. The service also claims that there is no collection of personal data, and the search information is scrubbed every 24 hours.
I typically test such sites with a few search terms that can have several meanings. In this case I chose "slavery" and "Asian women" for standard search and "melons" for image search. I chose these terms because I could imagine a middle-school teacher asking for research on the United States slave economy or a school in Asia, where I teach, wanting young ladies to find examples of successful Asian women. "Slavery" sailed through with flying colors, as did "melons" in the image search, but "Asian women" ran into a hiccup.
Simple Uses?
Kiddle has middle-school use written all over it.


Do I Plan To Use It?
No. I teach high school at a school that does not filter content. Kiddle will not work for me as much as SweetSearch does. That being said, I have no problem with my daughter, a middle-school student, using Kiddle.
Commitment And Learning Curve
Zero. If you can Google, you can Kiddle


Best For
MS
Cost
Free!


Website
http://kiddle.co/