In this episode, best selling author, Michael Bungay Stanier and I have an in-depth discussion about his latest book entitled The Coaching Habit: Say Less, Ask More & Change the Way You Lead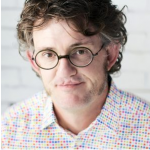 Forever. Michael provides a rich insight into the power of questioning and the role it plays in empowering those around us. Although Michael's work is deeply rooted and directed toward the corporate world, there is excellent takeaway value for all educators who listen to this podcast. Great teaching is all about asking great questions. The themes of staying curious, the importance of reflection, and being more comfortable with silence are also explored during this episode to emphasize just how critical a role they play in helping to construct a meaningfully rich learning environment for our students. There is no doubt that you will find immediate takeaway value in this podcast with Michael Bungay Stanier.
Bio:
Michael Bungay Stanier is the Senior Partner of Box of Crayons, a company that helps organizations do less Good Work and more Great Work. Box of Crayons is best known for its coaching programs, which give busy managers practical tools to coach in 10 minutes or less.
On the way to founding Box of Crayons in 2002, Michael lived in Australia, England, the United States and Canada (his current home), where he worked in the fields of innovation and change management. He's written a number of books, the best known of which is Do More Great Work, with almost 100,000 copies sold. He's proudest of End Malaria, a collection of essays about Great Work by thought leaders that has raised $400,000 for Malaria No More. His latest book, The Coaching Habit, is already being called a modern classic. To balance all this out, Michael was banned from his high school graduation for "the balloon incident," was sued by one of his law school lecturers for defamation and managed to give himself a concussion while digging a hole as a labourer…He was the first Canadian Coach of the Year and is a Rhodes Scholar.
Connect with Michael:
Website: http://www.boxofcrayons.biz/homepage-2/
Twitter: @boxofcrayons
LinkedIn: https://ca.linkedin.com/in/michaelbungaystanier
Facebook: https://www.facebook.com/boxofcrayons.biz/?fref=ts
Themes Discussed:
Empowerment, The Power of Questioning, Inquiry Teaching, Well-Being, The Coaching Habit, Reflection, Maximizing Impact, The Meaning of Work