Seesaw
is yet another digital e-portfolio option. There are a bunch of them; maybe too many of them.  For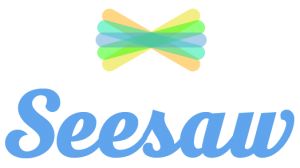 elementary students, interacting with a laptop is really tough. An iPad is a much better solution.  However, the evils of passwords often put up a FRUSTRATING level of friction that can make a teacher want to toss the iPad out the window. In addition, recording content and learning to an iPad can be tricky as well.
To make things easier with passwords, SeeSaw has students login using a QR code posted in the room; nice!  All content is then sent to the teacher for approval ( as needed) and setting up a parent portal is another option.
Lastly, the app is obviously designed by a teacher and there are a ton of
actually useful help files and lesson ideas
.
Simple Uses?
Capture and share writing work and reflect on it verbally

Capture and share art or music and reflect on it verbally

Articulate your goals for the year and check in on a timely basis with progress reports.
Do I Plan To Use It?
Already seeing it used in a first grade classroom at International School Bangkok
Commitment And Learning Curve
It takes some work to use this program. Not because of the program, but because of what it is calling for. It is asking you to shift your teaching style to capture learning in a systematic way in addition or in lieu of whatever traditional systems you have used. This is a commitment.


Best For
ES
Cost
Free. Not sure why, but free.


Website
Seesaw.me