School is no place for games – or is it?  Today we'll explore the principles of applying games and gamification in your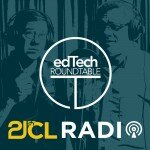 classroom, and look at a few examples.  We'll also discuss the difference between Gamification and Educational Games.
Lessons Learned
Dennis – There's always room for ducks.
Chris – Thank yous may be few and far between, but you must realize that they represent many times over "thank yous" that never arrived. Have you contacted your most influential teacher? Please pause this podcast and do it now! Send it to the school if you don't have the teacher's contact information. Facebook, twitter … its all good!
Notes & Links
21CLRadio Education Vanguard- https://21clradio.com/michael-matera-makes-gamification-classrooms-possible-us-education-vanguard-55/